Marble patterned Glass or Marble stone?
Marble patterned Glass or Marble stone? That will be a question.
Decorative stone such as marble and granite is applied to all aspects of architecture. Designers like their honest, warm, and eclectic nature.
However, the digital printing glass is the best solution to make glass into marble texture. Please kindly check below information for better understanding.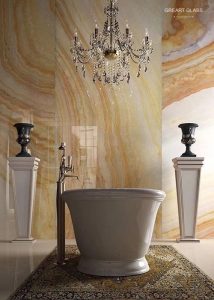 Process of Marble patterned Glass
Texture: There are many kinds of processes for realizing the surface pattern of glass. While the performance of ceramic digital printing glass is the best solution. The environmentally friendly inorganic mineral printing glaze can be permanently melted on the surface of glass by high temperature sintering, and it can prevent acid and alkali. The shedding and scratch resistance properties make it suitable for use in any desired application area.
The treatment of the surface texture of the glass has various chemical methods of acid etching, and there are physical methods such as car engraving, which can almost achieve any tactile needs.
Especially for the requirements of glass reflection, it can be made by using no fingerprint acid etching glass or anti-reflecting glass, so that the surface of the glass pattern is not highly reflective, delicate, soft, warm and comfortable.
Light transmission performance
Only part of the natural marble has light transmission properties and its translucent.
The digital printed glass with marble pattern can be made according to the requirements of use and design. Also all type of stone texture pattern on glass can achieve light transmission effect.
Furthermore, the price for marble patterned glass is much better than marble stone.
Graphic Design
Digital Printed glass (by quality ceramic ink) is the inevitable material diversification and the affirmation of process improvement. Use professional graphics acquisition and processing techniques to build databases and extend ideas.
Our team can process and produce the quality marble patterned glass. Even the texture and color of the specified stone, as well as the texture, all available to the different design requirements of the building project. Contact us to get solution and quote: inquiry@greartglass.com