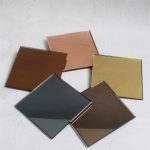 Description
Description:
Tinted mirror is specialty coating with different colors, such as golden, brown, gray, blue, pink, black etc. The tinted mirrors are suitable for lobby decoration, wall cladding, guestroom, salon, mall, gym, fitness, hotel decoration, elevator interiors and other decorative purposes.
Specifications:
Size: 1830x2440mm, 2440x3660mm (or custom size).
Thickness: 5mm, 6mm, 8mm (or custom thickness).
Color options: brown, golden, pink, blue, gray, black etc.
Applications of tinted mirror:
Wall Cladding

Hospitality interior

Bathroom

Shop decoration

Elevator interior