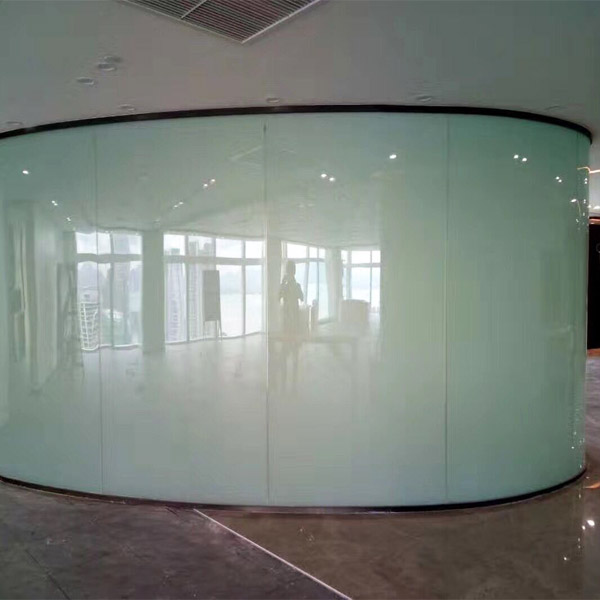 Description
Description:
Magic glass is a high-tech laminated glass product based on PDLC (Polymer Dispersed Liquid Crystal) liquid crystal technology. Normally it is a liquid crystal film with switching function. It is laminated into two layers of glass through lamination and bonded by high temperature and high pressure. New special photoelectric glass products.
Switch off
Switch on
Advantages:
1. Using high quality dimming film, the light transmittance is more than 80%
Firstly, our magic glass uses of the highest quality dimming film on the market. Then it with a transmittance of more than 80%. Furthermore the long lifespan is more than 10 years. Meanwhile a switchable state of over 5 million times.
2. Ultra-white thick film
Our magic glass uses ultra-white thick film when splicing, which can have better transparency, and it will not degumming and yellowing for a long time.
3. Safety tempered laminated glass
The tempering glass process to ensure the flatness of the original sheet. The strength of the process is 8 times that of ordinary glass, which greatly improves the safety performance.
4. The perfect processing
Our magic glass is manufactured in a rigorous 12-step process. Each glass undergoes 8 quality inspections and 10 self-tests to ensure the life of each glass.
Working principle:
When the magic glass is turned off, the liquid crystal molecules in the electronically controlled. Then the glass will exhibit an irregular dispersion state. Also the electronically controlled glass exhibits a light transmissive and opaque appearance state.
Applications:
Bank counters, business halls, ticket offices, medical wards, intensive care units, nursery rooms, business centers, conference rooms, star hotel bathrooms, villas, curtain walls, sun rooms, commercial displays, shop windows Various commercial and home scenes.